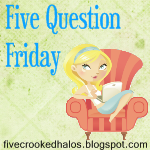 I've decided to join the FUN! I've been a lurker of 5QF for way too long. 5QF was created by a very sweet lady
Mama M of My Sweet Little Life,
if you like to read more 5QF entries head over to her blog and join in.
Here i go...
1. Who would you want to play you in a movie of your life?
This is funny because all i keep thinking about when i think of someone is Angelina Jolie. I don't believe to have anything in common with her just love her acting skills :) So i guess it would be her or Dr.Yang from Greys Anatomy..lol.. In looks we have nothing in common but in everything else i think we are right on.
2. Did you ever go to summer camp?
Nope, living in uptown Manhattan was rough for a girl.
3. What sends you running and screaming in the other direction?
Jehovah's Witness.. Ok i'm joking i promise. But truth is every Saturday morning during the summer when they knock at your door at 8am, i surely wish i could run the other direction...
Bugs, crazy animals, creepy creatures totally make me run the other direction.Heck even a dog makes me run and scream..
4. What is something you do that drives your spouse nuts?
lol... This is a good one because just last night he was telling me how much this bugs him. With me a simple yes or no answer is never enough, i ALWAYS go into interrogation mode (i do this with my kids also) I want to know how things happened, when, what time EVERYTHING. Call me crazy or better yet noisy but i must have all the details.. This drives any men crazy because they are simple yes and no type of people...
5. What is currently your favorite song?
Imma B
by the Black Eye Peas..Love them :)
There you have it peeps.. Enjoy